Where is Alaska Daily filmed? Is it really in Anchorage, Alaska? -Numerous TV shows and films, like 90210, The Real House of Atlanta, Hawaii Five-0, and others, have place names in their titles. But are these the places where they are filmed? Any reasonable person would expect that, but with films, you never know. And for this reason, people have been curious about Alaska Daily. The title of the crime-drama television show is Alaska, and the topic doesn't suggest differently. Where then does Alaska Daily take place?
Table of Contents
Did you realise that a pool was used to film the Titanic? It was specifically planned for enormous water tanks to resemble the North Atlantic Ocean. This information makes one ponder the lengths the production team will go to in order to capture the ideal photos without even being on location.
Then there is Alaska Daily. Without a question, the entire series shows Alaska, but was Anchorage, Alaska, the location of the TV show's filming? Where is Alaska Daily filmed for television?
Where is Alaska Daily filmed? Is it really in Anchorage, Alaska?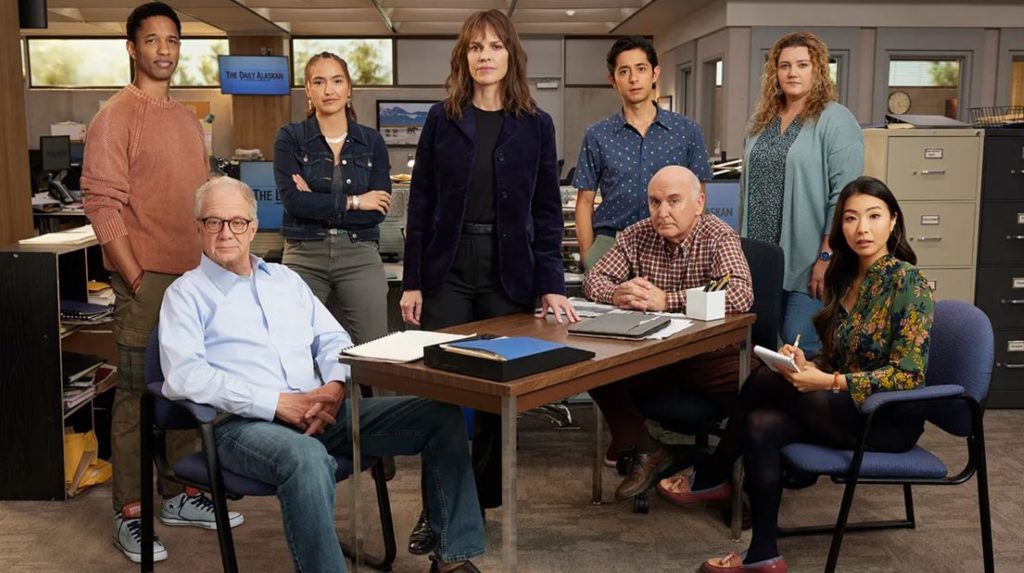 What is Alaska Daily?
Tom McCarthy developed the American crime drama television programme Alaska Daily for ABC. Hillary Swank (Eileen Fitzgerald), a journalist seeking a new beginning in Anchorage, Alaska, is the star of the television programme. Alaska Daily's inaugural season began on October 6, 2022, and finished on March 30, 2023.
The narrative follows Eileen as she searches for both emotional and professional salvation. Eileen relocates to Alaska from New York in search of a fresh start. She starts working at the Daily Metro in Anchorage.
Roz Friendly, a fellow journalist at the business, assists Eileen in finishing and publishing stories on the epidemic of missing and murdered indigenous women in Alaska.
RELATED: Cast of Hope Street | Full list of actors and characters
Alaska daily cast
Eileen (Hillary Swank), a former well-known reporter in New York, is a member of the core cast of the television show. After tearing down relationships in her previous job, she made the decision to move to Alaska. The core cast also includes the following additional actors:
Jeff Perry as Stanley Kornik: Eileen's former boss and managing editor of the Daily Alaskan.
Grace Dove as Roz Friendly: Alaskan native and star reporter
Meredith Holzman as Claire Muncy: Veteran Daily Alaskan reporter who helps Eileen and Roz with the investigation.
Matt Malloy as Bob Young: A senior reporter and acting news editor.
Pablo Castelblanco as Gabriel Tovar: A chatty Daily Alaskan employee.
Ami Park as Yuna Park: Daily Alaskan Cub reporter who quickly learns that reporting the truth isn't always easy.
Craig Frank as Austin Teague: Daily Alaskan reporter who is fearless in challenging his colleagues and representing the community.
Other actors include:
Irene Bedard as Sylvie Nanmac
Shane McRae as Aaron Pritchard, publisher of the Daily Alaskan
Phillip Lewitski as Miles, a Daily Alaskan photographer
Joe Tippett as Jamie
Kourtney Bell as Karla
Bill Dawes, as a concerned Citizen
Where is Alaska Daily filmed?
The stories this team shared were powerful 🎥 #BTS pic.twitter.com/UmHfRcQ8Ag

— Alaska Daily (@AlaskaDailyABC) April 19, 2023
Is Alaska Daily filmed in Alaska? is the big query. The majority of the episodes of the television series were shot in different cities far from Anchorage, Alaska. According to reports, the TV show began production in Burnaby, British Columbia, in August 2022. What are the many websites for the TV shows?
Metro Vancouver, British Columbia
One of the most frequently used filming locations for Alaska Daily is Metro. It is part of the Vancouver metropolitan area. Do you recall the Consulate of the United States of America? The Fortress Film Centre, located at 1745 West 8th Avenue and Pine Street, rebuilt it.
North Slave Region, Northwest Territories
Alaska Daily also films in the North Slave Region in the Northwest Territories. It belongs to one of Canada's five administrative regions, the Northwest Territories. The fictitious hamlet of Meade, Alaska, was portrayed here.
Anchorage, Alaska, USA
The TV show's setting, Anchorage, Alaska, was used for some of its filming. Roz Friendly's actor Grace Dove shared images from the Alaskan location shot.
Is there a season 2 of Alaska Daily?
Since there should have been information about a second season, many people have inquired "What happened to Alaska Daily?" Sadly, ABC terminated the TV show after one season, and on July 1, 2023, Hulu stopped carrying it.
Where is Alaska Daily filmed? The verdict
"Where is Alaska Daily filmed?" is a crucial question. is pretty typical because the television series makes it difficult to understand. A little section of the television programme was filmed in Anchorage, Alaska, but the majority was shot elsewhere.