Turkey earthquake – In Turkey, where another earthquake struck and at least six people were killed, rescuers are once more looking for those who are buried beneath the wreckage.
A 6.4 magnitude earthquake that ravaged both countries on February 6 occurred close to Antakya, Turkey, which is located close to the Syrian border.
In Turkey and Syria, the preceding earthquakes left 44,000 people dead and tens of thousands displaced.
Turkey earthquake: Deadly new tremor traps people under rubble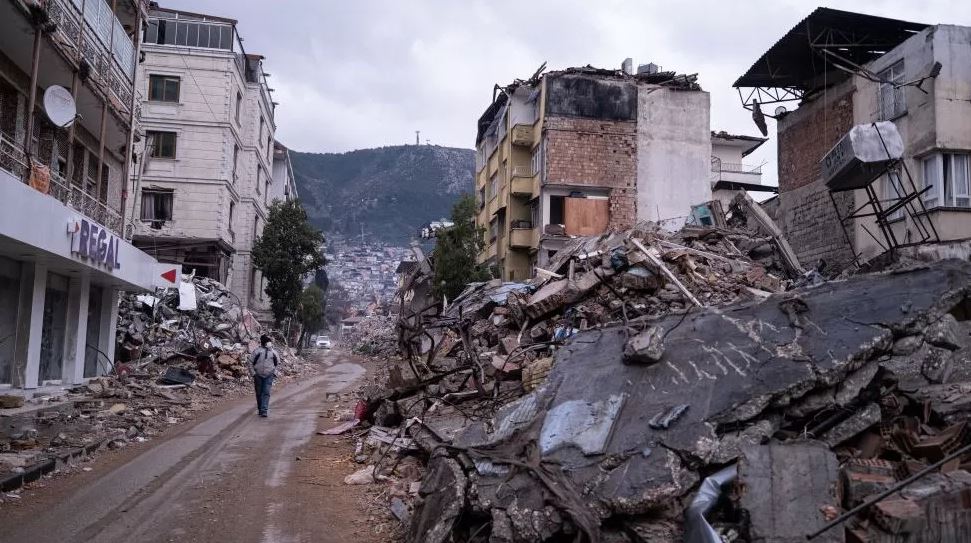 On Monday, tremor-weakened buildings toppled in both nations.
According to Turkey's disaster and emergency ministry, the 6.4 earthquake struck at a depth of 10 km at 20:04 local time (17:04 GMT) (6.2 miles).
Three minutes later, a 5.8 aftershock occurred, and then dozens of smaller aftershocks followed.
Dr. Fahrettin Koca, the health minister, reported 294 injuries, 18 of them serious.
Since the earthquake occurred in a region that was largely deserted after being severely damaged by the quake on February 6, it is believed that the death toll was comparatively low this time.
As paramedics and rescue teams worked to get to the worst-affected neighborhoods, where the walls of severely damaged buildings had collapsed, reports from the city of Antakya described terror and panic in the streets.
Muna al-Omar, a local, sobbed while holding her seven-year-old kid and told Reuters news agency, "I thought the earth was going to break up under my feet. When the recent earthquakes occurred, she was in a tent in a city center park.
Ali Mazlum, 18, told AFP news agency he had been looking for the bodies of family members from the previous earthquakes when the latest tremors hit.
"You don't know what to do… we grabbed each other and right in front of us, the walls started to fall," he said.
In a visit to the southern province of Osmaniye, Turkish President Tayyip Erdogan promised to hold to account anyone responsible for shoddy construction that led to deaths in the initial earthquake a fortnight ago.
"It is our duty to hold the wrongdoers accountable before the law," he said.
Orhan Tatar, the director of Turkey's disaster and emergency service, issued a warning to individuals in the impacted districts on Tuesday as recovery operations after the most recent earthquake proceeded.
People in the city of Adana were compelled by the most recent earthquake to go to a volleyball court that had been transformed into a rescue facility after the previous one.
According to the police, up to 600 people may have arrived over night in search of a strong, ground-floor structure to seek refuge in.
Many were said to have fled their homes when the earthquake hit, demonstrating that there is still a great deal of anxiety two weeks after the initial calamity.
Following the quakes on Monday, which were also allegedly felt in Egypt and Lebanon, it is believed that 470 injured persons attended hospitals in Syria.
US Secretary of State Antony Blinken pledged $100 million (£83 million) in humanitarian aid during a visit to Turkey on Monday. He added that the US would support the earthquake recovery effort "for as long as it takes."
Following the initial earthquake, it is one of many nations that have contributed assistance.