Ex-Premier League player Christian Atsu passes away -Both Christian Atsu's agent and manager confirmed his passing at the age of 31.
Following the tragic earthquake that struck Turkey and Syria on Monday, February 6, the former Premier League player, who played for both Newcastle United and Chelsea, went missing. Now that his body has been found, Saturday morning brought sorrowful confirmation of the terrible news.
Within hours of the earthquake, Atsu was reported missing. Only hours before the tragic incident took place, he scored a last-second winner for his current club Hatayspor against Turkish Super Lig rivals Kasimpasa on February 5 at home. Atsu joined the Turkish side in September of last year and was in Antakya at the time of the earthquake.
Ex-Premier League player Christian Atsu passes away at age 31, after Turkey earthquake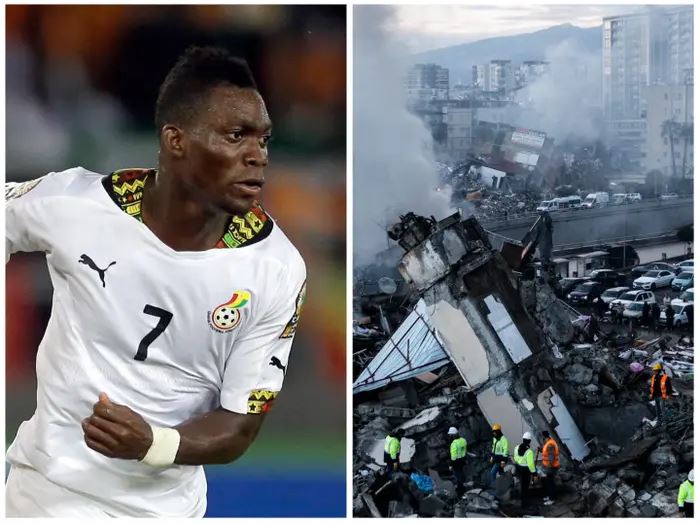 Hatayspor tweeted: "Sorry for your loss. The funeral of our football player Christian Atsu, who lost his life under the collapse, is on his way to be sent to his hometown Ghana. We will not forget you, Atsu. Peace be upon you, beautiful person. There are no words to describe our sadness. Rest in peace."
Atsu began his professional career at Porto, where he won the Primeira Liga, and briefly played on loan at Rio Ave, another Portuguese team. In spite of spending four years at Chelsea, he never played a single minute for the Premier League team.
Atsu, who was formerly referred to as the "Ghanaian Lionel Messi," wanted to emulate the Argentine icon.
In 2012, he stated to reporters: "My hero is Messi. There is no Messi in Ghana and none elsewhere in the world. I'll never be able to play even 1% as well as Messi does. It's not feasible."