Apple Music Sing is integrated with Apple Music's existing lyrics feature, which displays the lyrics to millions of tunes. When you access these lyrics now, you'll notice a little volume slider with a microphone icon. The vocal track is separated from the rest of the music, and its volume can be adjusted with Sing. Tap and drag the volume slider all the way down to sing solo, or mix to blend the track's vocal with your own voice in whatever way you like.
How to Make Use of Apple Music Sing
You should now be able to use the new Apple Music Sing function if your iPhone or iPad has been updated to iOS/iPadOS 16.2 (or if you have the latest Apple TV 4K). Here's how to put it to use.
RELATED: Top 100 Nigerian songs 2022 according to Apple Music
Step 1: Launch the Apple Music app and select a song to listen to. With the iOS 16.2 release, a Sing section has been added to the Browse tab. If you want, you can choose a song from this list.
Step 2: Play the song, then hit the lyrics button (the one with the small quote mark icon) in the bottom-left corner.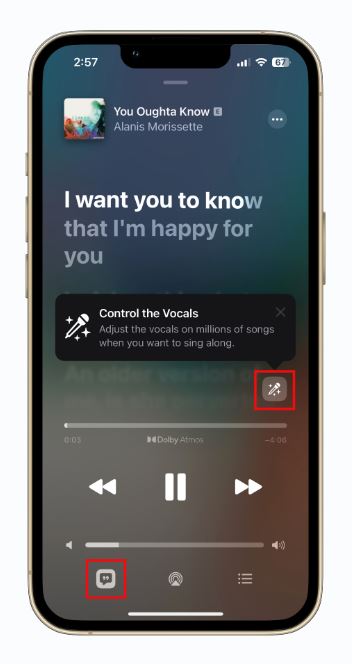 Step 3: On the right side, you'll see a small microphone icon surrounded by stars (songs that do not have the Sing feature will not show this icon). To activate the Sing function, tap this symbol.
Step 4: You may now tap and move the voice track's volume up or down to sing along with the lyrics, which will be indicated in time with the beat and when you should be singing them.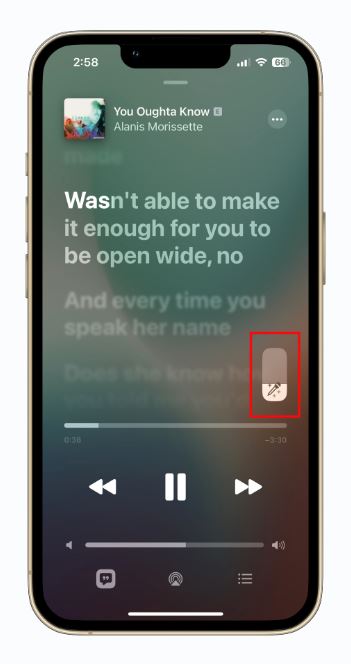 Step 6: The method is same for Apple TV 4K (2022) users, only you'll use the Apple Remote to pick and control the volume.
What songs are compatible with Apple Music Sing?
While Apple has not stated that the Sing function will be available for all of its music, it has stated that "tens of millions" of Apple Music tracks will be able to use it. To listen to them, you must be a subscriber to one of Apple Music's premium plans (not including the Voice plan though, sorry).
With the iOS 16.2 update, there are plenty of Sing-compatible songs in the Apple Music App's Browse section, which is organised by themed playlists (such as Party Anthems, Classic Love Songs, Soundtrack Songs, Songs for Pros, and Air Guitar Classics), genre (Pop, Hip-Hop, Alternative, Country, Rock, Dance, and more), and even decade (from the 1960s to the present).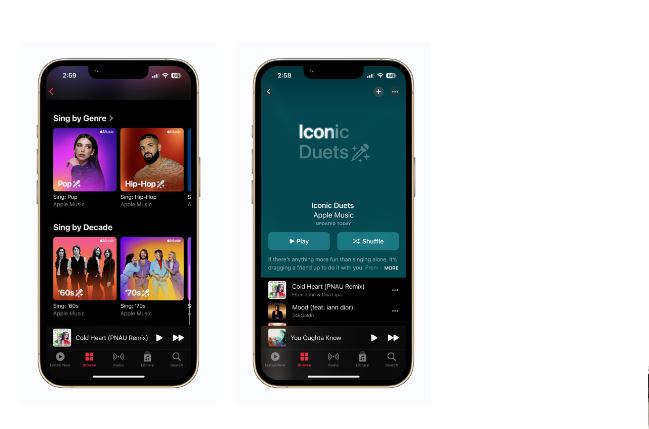 What devices support Apple Music Sing?
Apple Music Sing is accessible via the Music app and is compatible with iPhone 11 and later running iOS 16.2, iPads (third-generation and later) running iPadOS 16.2, and the most recent 2022 model of Apple TV 4K. Android smartphones with Apple Music can currently display lyrics but cannot use the Sing function. The complete list of compatible devices is provided below.
If you don't have automatic updates enabled on your iPhone or iPad, here's how to upgrade them to the most recent OS version.
Step 1: Launch the Settings app on your iPhone or iPad (the little gear icon.)
Step 2: Scroll down and select General, then Software Update.
Step 3: If an update is available, select Download and Install. Enter and confirm your passcode.
The following devices are fully compatible with Apple Music Sing:
iPhone
iPhone 12, iPhone 12 Pro, iPhone 12 Pro Max, iPhone 13 small, iPhone 13, iPhone 13 Pro, iPhone 13 Pro Max, iPhone 14, iPhone 14 Plus, iPhone 14 Pro, iPhone 14 Pro Max, iPhone SE (3rd-gen, 2022)
iPad
M1 iPad Pro, M2 iPad Pro, iPad 9, iPad 10, iPad mini 6, iPad Air 4, iPad Air 5, M1 iPad Pro, M2 iPad Pro
Apple Tv
4K Apple TV (2022)