Miracle Huawei Tool Ver 1.8 Latest Update Download
Miracle Huawei Tool Ver 1.8 Latest Update Download -The Miracle Huawei Tool is a lightweight Windows application that was developed specifically to fix Huawei Honor Android devices in a matter of seconds. It is possible to use the tool to remove the FRP account lock, unlock Huawei Honor MTK, Qualcomm, and Exynos phones, and flash Huawei Honor MTK Auth Protection Bypass via EDL, Download, Fastboot, and EDL Mode for free. I will provide you with the URL to download Miracle Huawei Tool Login Edition V2.21 Latest Setup Version as well as the Instructions manual so that you can simply repair your Huawei Honor Android phones in the following subjects.
Easy-Firmware Team's FRP Tool, Which Supports Panels and Devices to Run;
Windows XP, Windows Vista, Windows 7, Windows 8.1, and Windows to 32 and 64 bit, as well as Windows 11 and Other Panel are all supported without issue by the app.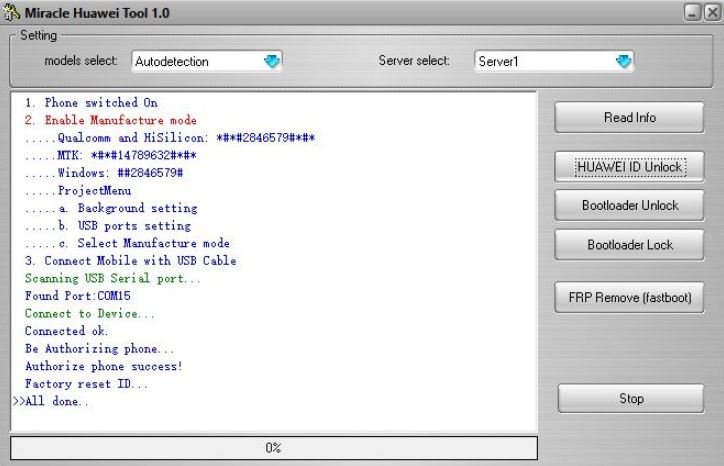 The following is a walkthrough on how to set up the Miracle Huawei Tool version 1.8.
After you have finished downloading the file, navigate to the location where you save your downloads. Then, all you need to do is extract the file using any RAR extractor, such as WinRAR, WinZip, or 7-Zip. Miracle Huawei Tool Ver 1.8 Update Version When you open the file after it has been extracted, a new window will appear with all of the necessary features. Prepared for installation on your machine. In the event that you ran into any difficulties.
RELATED: KMO Mobile Tool V1.2.0 Free Download 2023
Owners: Miracle Huawei Tool Ver 1.8
Upgrade to the latest version of the free tool. You are free to make as many free trials as you like.
Miracle Huawei Tool Ver 1.8 Terms Of Use:
This piece of software may not be compiled, disassembled, reverse-engineered, or altered in any other way, nor may it be altered in any way that would not be to the owners' benefit.
All of our gratitude goes go to the team that was responsible for making it available: Miracle Huawei Tool Ver 1.8 Update Version Latest All legal rights are retained.
Notice Regarding the Use of the Miracle Huawei Tool Version 1.8!
Only for the purposes of education and study should this publication and the programme that was downloaded be used, and you should not use it on any other device unless you are the owner of that device. Whatever you decide to do with this tool, we cannot be held accountable in any way.