Sofia Jamora is a model who has been involved with labels such as 'Frankies Bikinis and Lolli Valfre's swimsuit line. Her profile was raised even higher when she was featured in a respected American magazine. With a large following of over 2.8 million people.
Sofia Jamora: Who Is She?
Sofia Jamora is a well-known Instagram model, bikini model, and powerful figure on social media. Her meteoric rise began with her discovery by 'Frankies Bikinis.' Sofia has amassed a large following of loyal admirers by posting intriguing photographs and videos of herself in various bikinis and swimwear.
Table of Contents
Her reputation has skyrocketed, which was boosted further when she appeared significantly in the music videos of pop musician Zayn Malik, especially 'Let Me' and 'Entertainer.' These films, which had a two-part narrative including Zayn and Sofia dancing and sharing personal moments, went viral rapidly, owing partly to Zayn's existing fan base and fame.
Summary of Sofia Jamora's Career
| | |
| --- | --- |
| Real name | Sofia Jamora |
| Birthday | May 6, 1997 |
| Age | 26 years old (as of 2023) |
| Birth sign | Taurus |
| Birthplace | Calabasas, California, United States |
| Nationality | American |
| Profession | Model, social media star |
| Height | 5 feet 5 inches (1.65 m) |
| Weight | 55 kilograms (121 pounds) |
| Body measurements | 34-26-38 inches |
| Hair Color | Blonde |
Sofia Jamora's Career and Ascension to Notoriety
Sofia Jamora's remarkable journey through the sphere of fashion continued as she obtained modelling gigs with famous companies like 'Love Piper'. In 2014, she made a pivotal decision to start her Instagram feed, which was a watershed event in her career.
RELATED:
Her posts containing designer ensembles and bikini images quickly attracted significant attention, leading her to endorsements from prestigious fashion companies such as 'Oh Polly,' 'Windsor,' and 'Tobi'. This spike in popularity led to her getting a contract with 'Next Models'.
Undoubtedly, she had more accomplishments ahead of her. Her participation in the 'Valfré x Lolli campaign and the 'Welcome to Miami initiative were both hailed with tremendous applause. Her natural prowess on the runway was clear as she graced catwalks for 'bikini.com' and 'Bikini Luxe'. She had already carved out a name for herself in the fashion sector.
Following her work with 'Forever 21,' her career hit a new high point. This affiliation drew the attention of 'Freedom Models,' a Los Angeles-based modelling agency.
Concurrently, her modelling efforts opened the groundwork for her Instagram following to become 1.7 million by 2017. She could not have predicted her rapid leap to viral popularity in 2018.
Her debut in the music video 'Let Me' by pop sensation Zayn Malik sparked this spike. The video, which was released on YouTube on April 12, 2018, quickly went viral, garnering over 99 million views to date.
Sofia played Zayn's romantic interest in the video, engaging in dance sequences and dramatic interactions within a nightclub, culminating in an intimate moment.
This was quickly followed by her appearance in Zayn's subsequent music video, titled 'Entertainer,' which was released on May 23, 2018. With over 40 million views, the film helped the aspiring model gain even more attention.
Her Instagram following has grown to over 2.2 million since then, thanks to her swimwear, fashion, and lifestyle postings, as well as captivating images from her globe excursions.
Sofia Jamora's internet presence, combined with endorsements from top-tier businesses and regular modelling possibilities, positions her as a key personality to watch in the coming decade.
Rumours About Sofia With James LeBron
Sofia's relationship with Los Angeles Lakers star LeBron James has sparked speculation. These rumours got pace after Erza Haliti, a former Miss Idaho contender and the wife of Denver Broncos tight end Nick Vannett, addressed the purported relationship on her Instagram.
Sofia utilised her own Instagram platform to clear the air on her 23rd birthday, giving the following statement:
"I want to make it clear that I have no romantic ties to Erza." I want to make it perfectly clear that I am not romantically involved with any male at this moment. I've been in a volatile and poisonous relationship for the past few months. It is critical to reject the normalisation of adultery, deception, and fraud.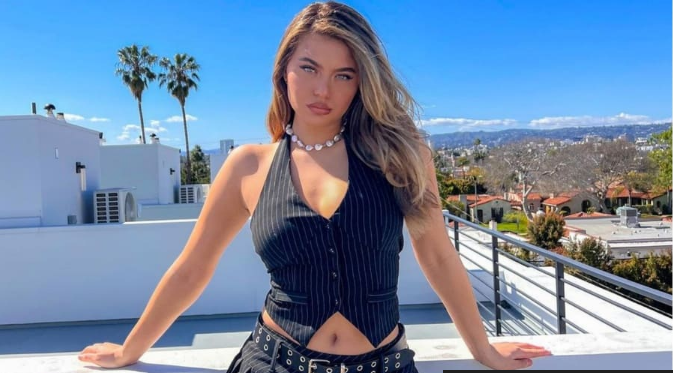 Sofia Jamora's net worth is unknown.
Sofia Jamora's net worth is estimated to be one million dollars. Despite her young, the rising star has made a name for herself. Her main source of income is from modelling, which she does frequently in collaboration with prominent luxury fashion labels. She also regularly participates in numerous commercial campaigns and music video productions.