GigaChad – Ernest Khalimov is a renowned fitness model and bodybuilder who gained widespread recognition as the inspiration behind the popular internet meme known as GigaChad. He first gained attention after featuring as a model in the Sleek'N'Tears project, showcasing his chiseled jawline and muscular physique.
Despite his fame, Ernest does not maintain an active social media presence, leading many to speculate whether he is a real person or a digital creation. To learn more about this celebrated fitness model, refer to his biography below.
GigaChad Profile summary
| Full Name | Ernest Khalimov |
| --- | --- |
| Nickname | GigaChad |
| Gender | Male |
| Date of Birth | March 1, 1969 |
| Age | 52 (As of 2021) |
| Zodiac Sign | Pisces |
| Place of Birth | Russia |
| Current Residence | Russia |
| Nationality | Russian |
| Ethnicity | White |
| Height (ft) | 6'8″ |
| Height (cm) | 203.2 |
| Hair Colour | Black |
| Eye Colour | Brown |
| Profession | Fitness model, bodybuilder |
GigaChad Biography
Ernest Khalimov, also known as GigaChad, is reportedly the social media personality behind the popular Instagram account 'berlin.1969.' With over 1 million followers on the platform, he has garnered a significant following as a fitness model and bodybuilder.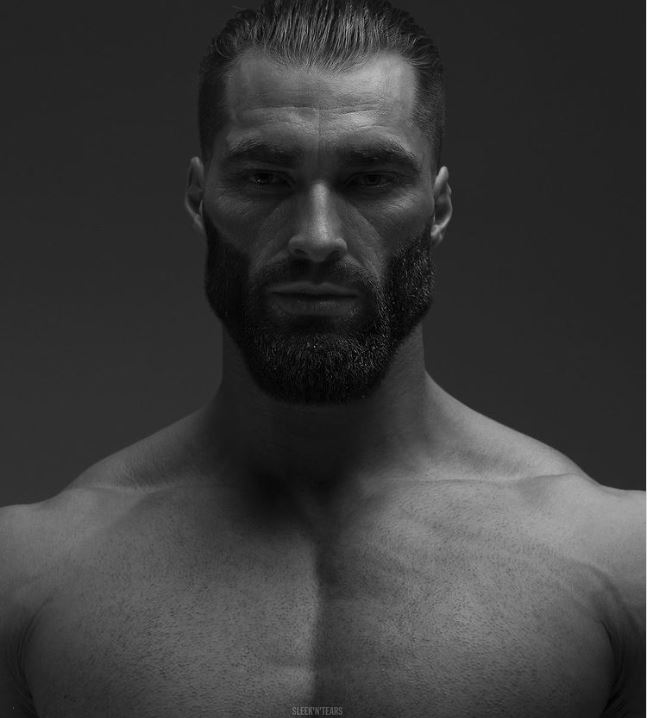 As of 2023, Ernest Khalimov is reported to be 53 years old and is believed to be a Russian trainer, bodybuilder, and fitness model. According to sources such as HITC, Ernest's earliest images surfaced online in October 2017 on 4chan. However, his origin can be traced back to 2015, thanks to the work of the Russian photographer Krista Sudmalis, who featured him as one of the models in her project Sleek'N'Tears. It was around this time that Ernest was given the nickname 'GigaChad,' which is still in use today.
Krista Sudmalis is known for photographing incredibly attractive male and female models, and it was through her work that the world was introduced to Ernest Khalimov. Soon after, he gained widespread attention and turned into a popular meme.
Is Ernest Khalimov photoshopped?
The authenticity of Ernest Khalimov's existence has been a topic of debate, with many questioning whether he is a real person or a product of digital manipulation. His fame skyrocketed after he featured as a model in the Sleek'N'Tears art project, which aimed to celebrate male beauty, with Ernest being one of the five main models.
Since his images went viral in 2017, rumors have persisted that Ernest Khalimov is a photoshopped version of Artur Farad, Krista Sudmalis' boyfriend and the project's photographer. However, some argue that Ernest is a real person, as some photos have been released that depict him in real-life scenarios.
Given that Ernest does not maintain an active social media presence, it is challenging to verify his authenticity. Although some factors seem to support the idea that he is a creation of Krista Sudmalis, others suggest that he is indeed a real person. Ultimately, the truth remains unknown, and Ernest Khalimov's status as a real or digital entity remains a matter of speculation.
How tall is Ernest Khalimov?
Ernest Khalimov stands tall at a height of 6 feet 8 inches (203.2 cm), with a masculine physique that has garnered him a considerable following as a fitness model and bodybuilder. He boasts black hair and striking brown eyes, which complement his impressive stature.
What is the Chad Meme?
The Chad meme is a term used to describe an extremely attractive and confident male. The meme gained popularity with the emergence of Ernest Khalimov's photos on social media, with his masculine physique and perfect appearance making him the perfect representation of a Chad.
After Ernest's photos went viral, social media users began sharing various memes, some questioning whether he was a real person or a digital creation. There are few videos of Ernest available online, and he has a limited social media presence, making it difficult to determine his true identity.
Despite the mystery surrounding Ernest Khalimov, he has become a popular figure on social media, with fans drawn to his aesthetic appeal. Some have even claimed that he is an inspiration for their fitness goals. However, others remain skeptical about his existence, with the debate over the true identity of the man behind the Chad meme continuing to spark interest among fans.