Chandrayaan 3 – is attempting to become just the fourth nation to successfully carry out a controlled landing on the moon.
At soon after 2:30 p.m. local time (5 a.m. ET), Chandrayaan—which is Sanskrit for "moon vehicle"—launched from the Satish Dhawan Space Center in Sriharikota, southern Andhra Pradesh.
More than 1 million people watched the historic launch online in addition to the large crowds that assembled at the space complex.
Later on Friday, the Indian Space Research Organization announced through Twitter that Chandrayaan-3 is in "precise orbit" and has "begun its journey to the moon."
The health of the spacecraft was further described as "normal."
Narendra Modi, the prime minister of India, responded by tweeting: "Chandrayaan-3 scripts."
On August 23, the craft is anticipated to touch down on the moon.
India is attempting a soft landing for the second time after Chandrayaan-2, its last attempt, failed in 2019. Chandrayaan-1, its first lunar probe, orbited the moon before being purposefully crash-landed onto the lunar surface in 2008.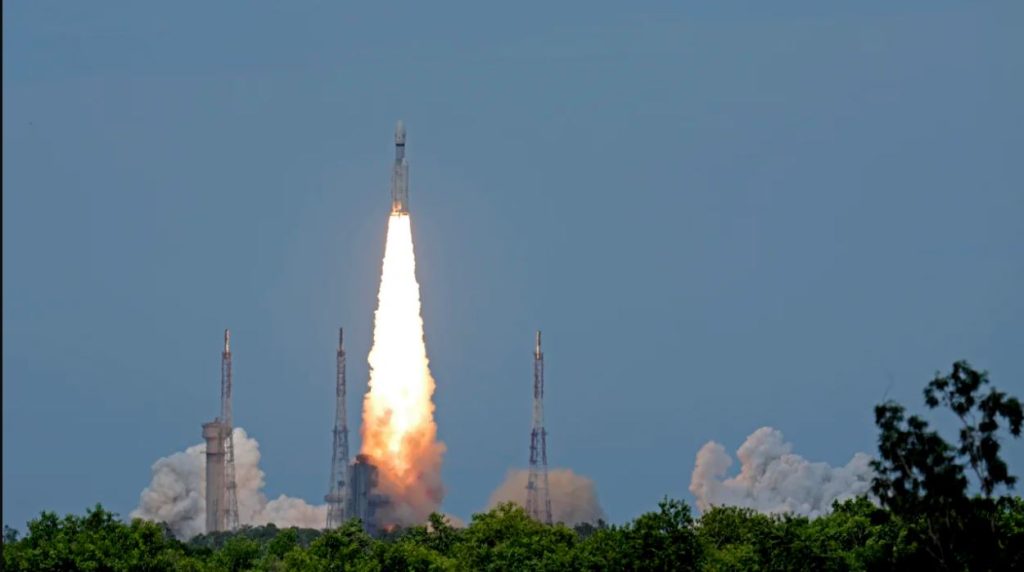 Chandrayaan-3 is a lander, propulsion module, and rover that was created by the Indian Space Research Organization (ISRO). Its objective is to safely land on the moon, gather information, and carry out a number of scientific investigations to find out more about the make-up of the moon.
The United States, Russia, and China are the only other nations to have successfully completed the challenging task of soft-landing a spacecraft on the moon's surface.
For years, Indian engineers have been working on the launch. They plan to set down Chandrayaan-3 close to the treacherous terrain of the moon's uncharted South Pole.
Water molecules were found on the moon's surface by India's first lunar mission, Chandrayaan-1. When Chandrayaan-2 successfully entered lunar orbit eleven years later, its rover nevertheless made a hard landing on the moon's surface. Also, it was
Decades in the making
India's space program dates back more than six decades, to when it was a newly independent republic and a deeply poor country reeling from a bloody partition.
When it launched its first rocket into space in 1963, the country was no match for the ambitions of the US and the former Soviet Union, which were way ahead in the space race.
Now, India is the world's most populous nation and its fifth largest economy. It boasts a burgeoning young population and is home to a growing hub of innovation and technology.
And India's space ambitions have been playing catch up under Modi.
For the leader, who swept to power in 2014 on a ticket of nationalism and future greatness, India's space program is a symbol of the country's rising prominence on the global stage.
People listen to a live broadcast of scientists speaking after the launch of spacecraft Chandrayaan-3.
In 2014, India became the first Asian nation to reach Mars, when it put the Mangalyaan probe into orbit around the Red Planet, for $74 million – less than the $100 million Hollywood spent making space thriller "Gravity."
Three years later, India launched a record 104 satellites in one mission.
In 2019, Modi announced in a rare televised address that India had shot down one of its own satellites, in what it claimed was an anti-satellite test, making it one of only four countries to do so.
That same year ISRO's former chairman Kailasavadivoo Sivan said India was planning to set up an independent space station by 2030. Currently, the only space stations available for expedition crews are the International Space Station (a joint project between several countries) and China's Tiangong Space Station.
The rapid development and innovation has made space tech one of India's hottest sectors for investors – and world leaders appear to have taken notice.
Last month, when Modi met US President Joe Biden in Washington on a state visit, the White House said both leaders sought more collaboration in the space economy.
And India's space ambitions do not stop at the moon or Mars. ISRO has also proposed sending an orbiter to Venus.