Jinsi ya kuangalia AZAM TV kwenye simu au PC Computer
In this fast paced world, everyone loves to stay connected with their loved ones at all times. The best way to stay in touch is by watching TV programs but we can't travel with our 32inch Tv everywhere! So that is where we find our self looking for the way of watching Tv on our smart phone device. So, if you're in the same boat and looking for a way to connect your Azam Tv to smartphone, you've come to the right place. The article will give you a detailed understanding of how to watch all Azam TV Channels on your Android device.
Azam TV is a television broadcasting company based in Tanzania and owned by businessman Saidi Salim Bakhresa . The company was founded in 2013 in Dar es Salaam , Tanzania . Its headquarters are in Tazara , Nyerere Road .The company broadcasts its ads in East and Central Africa ( Tanzania , Kenya , Uganda , Rwanda , Malawi etc.).
Azam Tv offers a one stop point with a full range of news, sports, entertainment, education, health, business, politics and government, economy, and culture. Azam TV has a large viewership in East and Central Africa and globally.
If you are currenlt not familiarize with Azam Tv packages and channels you can check our previous articles covering All packages offered by Azam Tv from the link below.
Jinsi Ya Kuangalia Azam Tv Kwenye Simu Au Pc
Have you ever dreamed of watching your favorite television shows and movies on your Android device? If so then its about the time your dream to come true. You easily watch all Tv to your android device but with a little bit of technical know-how. Below we have highlighted step you need to follow so as to watch all Azam Tv channels on your smartphone.
Requirements For Connecting AzamTv To Smartphone or Pc
Smartphone Device Or Computer ( Laptop )
Internet Connection
Azam Smart Card Number
AzamTv Max Subscription
Jinsi Ya Kuangalia Azam Tv Kwenye Simu
In order to watch AzamTv Channels on your smartphone devive ( Android device/ IOS ) follow the steps listed below.
On your Smartphone device open your app store and there search for AzamTv Max
Download and install the AzamTv Max app from the Google Play or Apple App Store.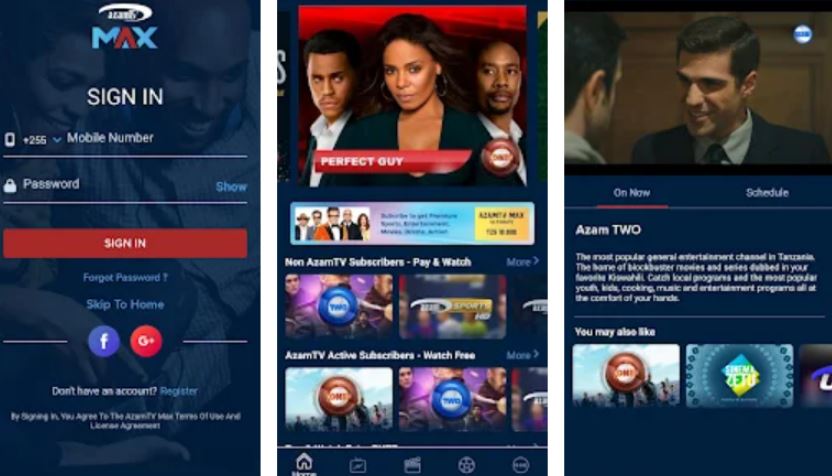 After installation complete Launch the app and log in to your AzamTv Max.
If you don't have account yet you must start with registration. To do so click on the Register button and provide your phone number. There after you will receive One Time Password to verify your mobile number. After verification complete proceed by providing your AzamTv card number so as to watch all program for free but if you don't have the Azam Smart card you must buy subscription plan of your choice.
After registration complete, proceed with Login procedures and Start watching your favourite Tv channels on your smartphone.
Jinsi Ya Kuangalia Azam Tv Kwenye Pc/ Laptop
To watch AzamTv Channels on your Pc( Desktop or laptop device) Follow the steps below
Open web-browser of your choice and visit https://web.azamtvmax.com/
Once the link load successfully you will be required to Register or Login to your AzamTv Max account . Click on Register if you don't have any account yet.
Follow the registration process shown above to create your AzamTv max account.
Once your complete registration Click on login and provide your Phone number and password to continue.