iAaldaz Activator All in One Passcode Tool Download
iAaldaz Activator All in One Passcode Tool Download -iAaldaz Activator All in One Passcode removal utility is a lightweight application that was developed specifically for Windows-based personal PCs. iAldaz Activator is a utility that allows users of Windows PCs to erase the passcode from any iPad or iPhone running an iOS version between 12.x and 15.x. The tool was developed specifically for Windows computers. If you have been searching for the activator app, then it is possible that this is the one that will save the day for you. The application has a straightforward user interface and performs its intended function without introducing any errors.
Features Of iAaldaz Activator:
Patch Device
A11 Erase Device
Erase Device V12-14
Backup Device
Activate Backup
Fix Apps Banks
RELATED: ZZKey Huawei Advanced Tool V2.7.2.9 Download
iAaldaz Activator All in One Passcode Tool Download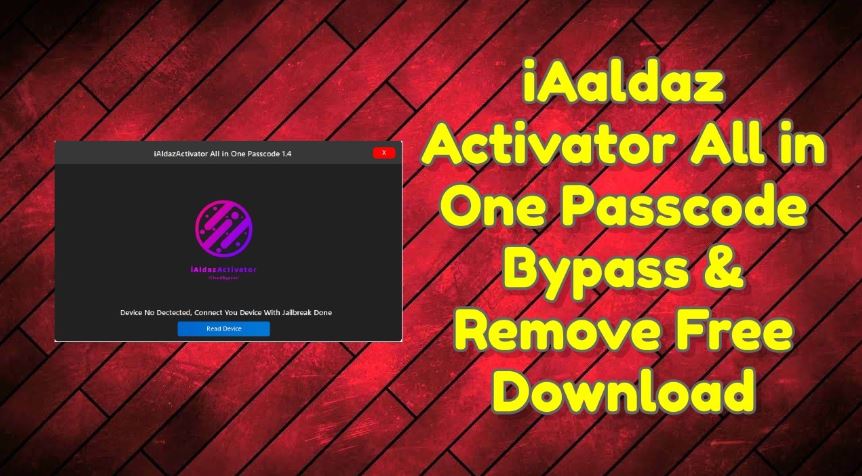 The consequences of forgetting the passcode for your iPhone or the password for your Apple ID can be severe, but they do not have to be. You may quickly and easily restore full access to your iOS device by using the iAaldaz Activator iPhone Unlocker. All it takes is a few clicks of the button.
I've Lost My Passcode to My iPhone
iPhone was disabled due to an incorrect passcode being entered.
iPhone has a broken screen and cannot be unlocked.
Your Apple ID has been terminated for security reasons.
You can disable the 'Find My iPhone' feature without entering a password.
Using iAaldaz Activator All in One Passcode Tool
The iAaldaz Activator All in One Passcode Tool: How Do I Use It? Simply following the instructions outlined here is all that is required of you. Please take note that this technique requires a jailbreak. Since jailbreaking an iPhone can compromise the safety of your device, Apple advises users to exercise extreme caution before attempting the process and to only proceed if there are no other options available to them.
You must begin by downloading the Checkra1x IOS file and using Baleno to create a bootable pendrive.
Then You Should Jailbreak Your iPhone 6, 7, 8, or X.
Initial Configuration of Your Own PC
Installing iAldaz All in One Passcode requires you to download the appropriate file.
Today You Can Register Your Own Serial Number—an Update Is Coming Soon
You only need to follow the procedures that are outlined above in order to erase the passcode from any iPad or iPhone that is running iOS 12.x to iOS 15.x.
NOTE;
This article was created solely for the sake of education and research, with the intention of assisting the owner of the device in resolving any issues related to the password. Make use of this on a gadget that you own. You need to start learning how to remember your password immediately so that you may avoid having to go through this difficult process in the future. In the following paragraphs, we have provided a few helpful hints that can assist you in remembering your password.
Make a "Tip Sheet" for people.
If you have to write down your passwords, you should be sure to disguise them.
Examine the Use of Shortcuts
Make up your own own Code ( from your name birthday or something important that already in your long term memory)
Pick one of your favourite books, then construct your passwords using the first paragraph you come across in that book.
Construct a Password Using Your Favorite Song, Food, Pet, or School, etc.
Try out a few different password management programmes.