Gharama Za Bima Ya Afya Kwa Mtu Binafsi 2022 NHIF
Gharama Za Bima Ya Afya Kwa Mtu Binafsi 2022 -The National Health Insurance Fund (NHIF) in Tanzania is a program that is supported financially by the government and offers inhabitants of the country access to health insurance coverage. Access to essential medical services, including hospitalization and medication, is one of the many advantages provided by the NHIF, along with a host of other advantages. In addition, services related to pregnancy and childbirth are covered by the program. In addition to that, the NHIF offers financial aid to those who are dealing with chronic illnesses.
The program receives funding from a variety of sources, including governmental revenues as well as donations from both companies and employees. Tanzania is one of several African nations that launched a national health insurance scheme in recent years, and it is one of those nations that Tanzania is a part of. The National Health Insurance Fund (NHIF) has been instrumental in expanding access to healthcare for millions of underserved individuals and bringing about a reduction in the incidence of preventable diseases.
Gharama Za Bima Ya Afya Kwa Mtu Binafsi 2022 NHIF
NHIF Tanzania offers a diverse selection of medical coverage options to meet the requirements of its customers' unique situations. The National Health Insurance Fund of Tanzania (NHIF Tanzania) provides customers with a selection of health insurance plans at a variety of pricing points. These rates vary according to the age of the consumer, the package coverage desired, and the features desired. The price list for the various health insurance plans offered by NHIF Tanzania may be found below.
Age Group 18-35 Najali Afya 192,000 Wekeza Afya 384,000 Timiza Afya 516,000
Age Group 36-50 Najali Afya 240,000 Wekeza Afya 440,000 Timiza Afya 612,000
Age Group 60+ Najali Afya 360,000 Wekeza Afya 660,000 Timiza Afya 984,000
Gharama Za Bima Ya Afya Kwa Mtu Binafsi 2022 NHIF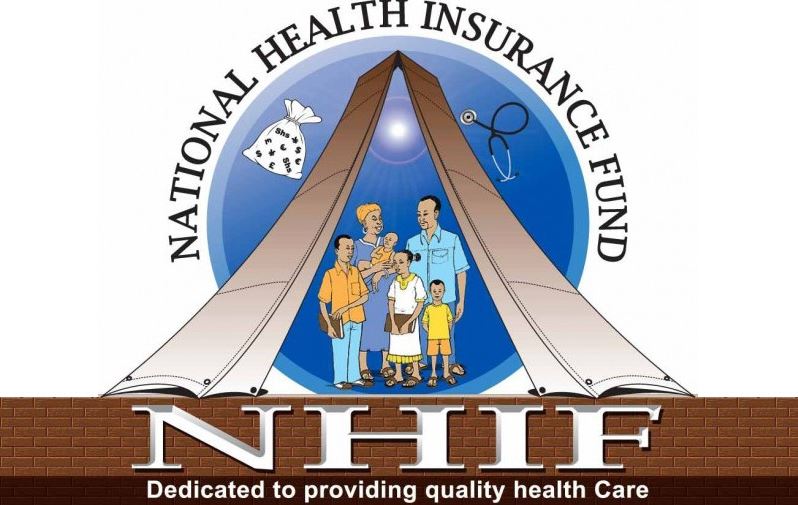 What Kinds of Services Are Contained Within the Different Nhif Packages?
The National Hospital Insurance Fund (NHIF) provides a variety of insurance plans, each of which comes with its own unique set of benefits and levels of protection. Basic medical services, such as outpatient treatment, maternity care, and immunizations, are included in the Najali Afya Package, which has the most affordable pricing point. The more expensive Executive Plan offers coverage for a wider variety of services, including as hospital stays, diagnostic testing, and prescription medications. The National Health Insurance Fund (NHIF) will assist you in paying for your medical bills no matter which package you select. The list of services that are included in each of NHIF's packages can be found further down this page.
Gharama Za Bima Ya Afya Kwa Mtu Binafsi 2022 NHIF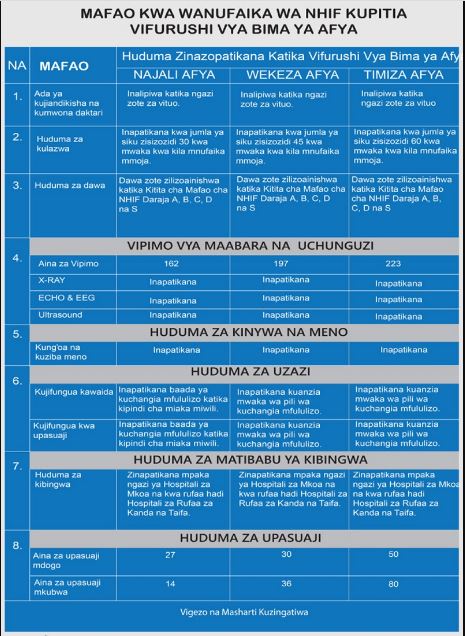 Documents Required to Register as a Member of the NHIF in Tanzania
Documentation proving your identity, such as a driver's license, passport, voter registration card, or national ID card.
passport with a recent photo that is colored
Any religious denomination that wishes to register with the NHIF should send a letter requesting registration to the nearest NHIF office in their area.
A birth certificate will be required for all children who are younger than 18 years of age.
Any educational institution that want to register its students is required to apply and get registered with the Fund as an employer.
In order to register with NHIF, mutual groups must submit their application forms together with a copy of their registration certificate, Constitution, list of all members, and TIN Number Certificate.
If you want to list your spouse as a dependent on your taxes, you need to include both your identification card and your marriage certificate.
In order to list a parent as a dependent, you are need to submit a copy of the parent's identification card in addition to the contributor's birth certificate.
If you want to register the contributor's parent as a dependent, you need to include the contributor's parent's identification card, the contributor's spouse's birth certificate, and the contributor's marriage certificate.
Gharama Za Bima Ya Afya Kwa Mtu Binafsi 2022 NHIF
alternatively, you have the option of submitting an online application by going to this website.
NHIF Tanzania Contact Address

For More Inoformation Pleas Contact NHIF Help Center Via
CALL NHIF: +255 26 2963887/8/+255 26 2963888
HOTLINE: 0800110063 – Inapatikana saa 24 siku 7 za wiki
ADDRESS
National Health Insurance Fund,
Head Office,
Tambukareli Street, Jakaya Kikwete Road,
P.O.Box 1437,
DODOMA,
TANZANIA.
EMAIL ADDRESS: [email protected].tz