Yanga Sc vs Vipers 6 August 2022 Siku ya Wananchi Friend Match
Yanga Sc vs Vipers -At the pinnacle of Mwananchi week, on August 6, 2022, the Yanga SC club from Dar es Salaam will face off against the Vipers club from Uganda. As was the case with Yanga SC for the 2021/2022 season, Vipers have been crowned the champions of football in Uganda for the 2021/2022 season. As a result, the Champions League will be contested by these two teams.
Young Africans Sports Club, more commonly referred to as Yanga, calls Benjamin Mkapa Stadium in Dar es Salaam, Tanzania, their home field. A Tanzanian football team known as Yanga has been around since its founding in 1935.
RELATED: Kikosi cha Yanga Msimu Huu wa 2022/2023
Yanga Sc vs Vipers 6 August 2022 Siku ya Wananchi Friend Match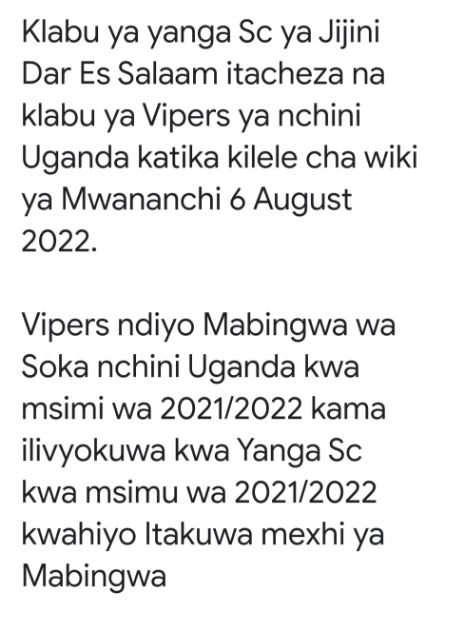 ABOUT YOUNG AFRICANS SPORTS CLUB
The Young Africans Sports Club, also known simply as Yanga, is a Tanzanian football club that plays its home games in the Jangwani neighborhood of Dar es Salaam. The club was established in 1935, and the Benjamin Mkapa Stadium is where they play their home games.
The club's nickname is "Yanga," which means "Young Boys," and they have won 28 league titles and a number of domestic cup competitions. Additionally, they have competed in many editions of the CAF Champions League. They are five-time champions of the CECAFA Club Championship tournament.
The club came to represent the anti-colonial movement and its ideals. The political group TANU was motivated to choose yellow and green as their major colors after becoming linked with young Africans who got associated with nationalists and independence fighters. The club is currently going through a procedure that will maintain the investors' ownership of the club at a rate of 49 percent while transferring the remaining 51 percent to the club members.
The club has a long-standing rivalry with its opponents from the other side of the city, Simba, against whom they compete in the Dar es Salaam (sometimes referred to as Kariakoo) derby. The competition was ranked fifth on the list of the most notable derbies that take place in Africa.