TPS Xiaomi Tool Download Latest Version For Windows 7, 8.1, 10 64 bit
TPS Xiaomi Tool Download Latest Version For Windows 7, 8.1, 10 64 bit -How many times have you purchased a pre-owned unlocked phone on the internet? If you're anything like me, the number is definitely too high to count! If the phone comes with a mi-account lock, it may be impossible to activate and use it even after it has been delivered.
The good news is that there is a simple technique to unlock these phones so that they will work again without any problems even if the prior owner does not have an account associated with them. You don't need to root your phone or install any specialized software because there's a free program that can unlock these kinds of phones that you can find online.
The TPS Xiaomi Tool is one of the few tools that can let you circumvent your Mi account or the Official Bootloader Unlock and Point Finder. This app is accessible for Windows and is one of the few that can do so. The steps needed to unlock the axiom Mi account are outlined in this article.
TPS Xiaomi Tool provides the capability to unlock the bootloader and has shared an excessive number of Test Point images. You can use the correct image to boot your Xiaomi phone into EDL or Test Point Mode so that you can flash a new firmware or unlock it. Because they are responsible for its development and its repackaging, the Miko Force team deserves special recognition.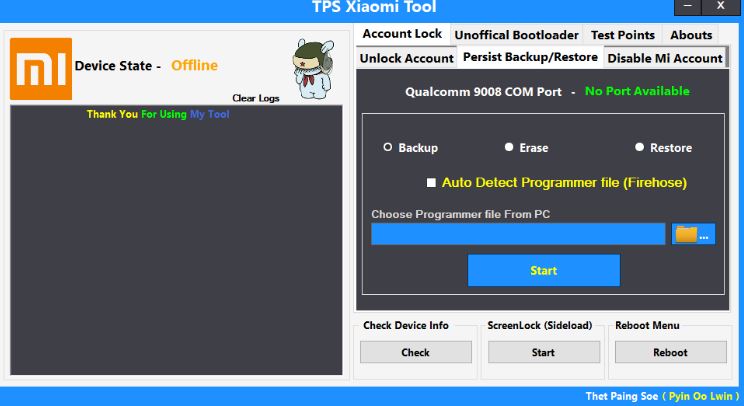 The TPS Xiaomi Tool: What Its Capabilities Are
You can use the software to swiftly fix a variety of issues with Xiaomi MIUI Android, including the following: The tool, in its most basic form, offers users a choice between two distinct procedures for repairing any Xiaomi phone. The first of these is the Qualcomm 9008 com port approach, while the second is the Fastboot mode procedure. This tool and these procedures will assist you in effortlessly removing the screen lock if your phone is stuck on the Mi account lock verification screen. The following is a list of adjustments that can be made with the TPS Xiaomi Tool:
Mi Account Unlock On EDL 9008
EDL Pinout
Fastboot Remove From Various Model
Mi Account Unlock On Fastboot
Bypass or Disable Mi Account
Persist Backup & Restore
Pattern Unlock in Sideload Mode
Check All Xiaomi Devices Information
Reboot Xiaomi Menu & More
Unofficial Bootloader Unlock for all Xiaomi Devices
Factory Reset Xiaomi phones
The program comes with a surprising number of settings that simplify a variety of different responsibilities. TPS Xiaomi Tool is compatible with the majority of Xiaomi's devices. In the event that you have misplaced your SIM card, which is associated with a Mi account, and you wish to deactivate or activate said account. Then, considering the circumstances, you will need to put the TIPS Xiomi tool to use.