MTK Client Tool V5.2 MediaTek Download all in one Tool
MTK Client Tool V5.2 – Are you seeking for the most recent version of the MTK Client Tool V5.2 MediaTek all in one tool? Download it here for free! You have arrived at the appropriate site to obtain all of the information that pertains to the free downloading and installation. Continue reading this essay all the way through, and I hope you'll find it enjoyable from start to finish. If you find this to be of interest to you, please leave a comment below.
The MTK Client Tool v5.2 is a program for Windows that is utilized to fix software-related issues such as the activation lock on a Google account (FRP lock). Encrypts the data, clears passwords, resolves problems and viruses, and resets the device. Remove and correct any long booting that hangs on the logo.
The Mtk client tool, which does not require the use of an external dongle or box, makes it a great deal simpler to fix a variety of issues that may arise on your Android smartphone. It also functions without the requirement of having to install anything.
In the event that you are having problems enrolling your Samsung account on Google after doing a factory reset on your phone. In such a scenario, the Mtk client tool offers a function that will be of assistance to you in the process of deleting it without running into any problems.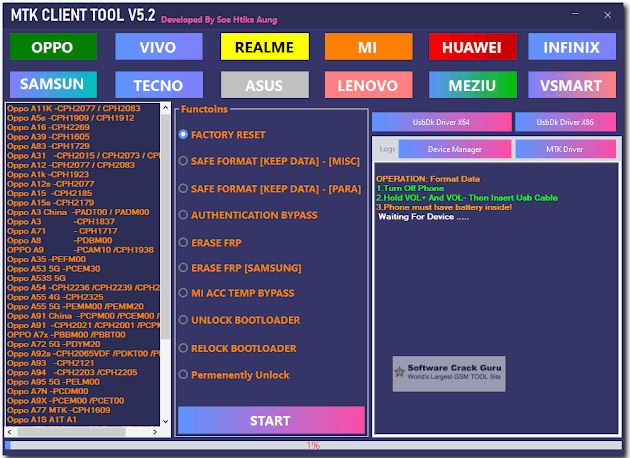 Features Of MTK Client Tool V5.2 MediaTek all in one Tool
Erase the lock on the FRP.
Unlocking the Bootloader
Taking Off Your Password
Secure format that doesn't lose any data.
Bypassing the Authentication Check.
The original settings.
Lock and unlock the bootloader.
TEMP bypass for the MI Account.
Unlock in a permanent manner.
Compatibility: The utility virtually fully supports all versions of Windows, including Windows XP, and it runs well on those operating systems. Before you begin the program, make sure the Windows Defender is turned off so you don't get a misleading report.
How To Make Use Of The MTK Client Tool Version 5.2 MediaTek's All-In-One Tool All Models Supported
To get started, click on the link provided below to download the.zip file for the mtk client tool version 5.2.
The next step is to locate the folder that was downloaded and extract its contents to a specific folder on your desktop using either the WinRAR or 7zip application.
After that, start the installation, then after a short while, once the tool has opened, start whatever service you want. That's it!
It is imperative that any smartphone USB driver be installed prior to the mtk client detecting the device in question. Additionally, a USB driver has been correctly installed for each device in your computer.