Ifrpfile all in one tool v1.0.8 download
Ifrpfile all in one tool v1.0.8 download -ifrpfile, a tool that incorporates all of its components. is the premier free iCloud tool for getting around activation locks on iOS devices like iPhones and iPads. You may effortlessly erase iCloud from your device, remove the activation lock, find my iPhone and iPad through the USB connection, and do a lot more with the help of the ifrpfile all-in-one tool. Extremely rapid and without cost
iFrpfile All In One iCloud Tool V2.8.5 is compatible with both Windows and Mac operating systems. It enables you to fix Untethered bypasses for iOS 10 as well as the most recent updates for iOS 11 that have been released by Apple. Additionally, it includes a simple tool for removing Activation Lock, which enables you to replace a lost device with a new one directly via USB cable without the need for any additional tools or methods that were previously required. Although it does not have its own notifications or beacons, this program is absolutely risk-free and completely free to use.
Ifrpfile all in one tool v1.0.8 download
iFrpfile's All-In-One-App for iCloud (AIO) Update Tool's Feature Set
Include Apple Finder for Lost, Passcode-Protected, and Disabled Devices
Skipping through the fix for the bug
Include Bypass repair notice, as well as other iCloud services such as FaceTime and iMessage (no Signal, )
Fix the bypass passcode so that all functions can be used
Include the capacity to convert backup files from another program while ignoring their associated passcodes.
Fix Hidden iCloud Owner Changed Password so that new account can be accessed
Make the banking applications for the iPhone more stable.
Get back to the basics.
Make the untethered bypass work without using the MEID. Remove baseband activation (will drain battery) Simply choose the button labeled "Restore Baseband" and then input the SIM set PIN number if you do not want to turn off the baseband.
Improve the setup of the skip.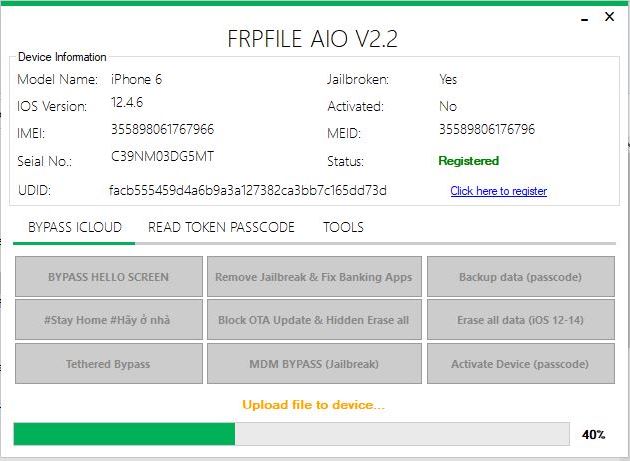 About Ifrpfile all in one tool v1.0.8
Change Logs
Release date: 06/08/2021
Apple has corrected the albert server activation request in order to fix the untethered bypass in iOS 14.8, as of this writing. FREE workaround for the tool alone Untethered, with no notifications or access to iCloud services…)
NO MEID is required; simply use a SIM card with a PIN code or remove the baseband.
Release date: 14/10/2021
circumvent the passcode to fix the bug
Include your backup account with your iCloud account. NOTE: the IOS version on the device that gets the backup account and the device that adds the account must be the same.
Compatibility with ifrpfile all in one tool version 1.0.8

Ifrpfile's All-in-One Tool, Version 1.0.8, is Compatible
The software functions faultlessly on Windows XP, Windows Vista, Windows 7, Windows 8.1, and Windows versions up to 32 and 64 bits, in addition to Windows 11 and other boards.