Android Fastboot Reset Tool v1.2 Download
Download the most recent version of the Android Fastboot Reset Tool v1.2 here: android fastboot reset tool v1.2 by mohit kkc
You may get around the protective lock on the factory reset on any Qualcomm, MediaTek, or Spreadtrum-based Android smartphone by using the Android Fastboot Reset Tool, which is a straightforward but effective piece of software. The user interface is intuitive enough that even someone with no prior experience can quickly become proficient with its operation. This tool can also be used to remove the factory reset protection (FRP) on a Yuforia device, in addition to HTC and Micromax.
You may also use this technique to get around the Google Account Lock on your Android smartphone or tablet by entering Fastboot Mode on the device. It has the ability to remove Mi Account Lock, open Yeureka Bootloader or Remove SPD FRP, remove Pattern Lock, unlock Bootloader, and a variety of additional locks and restrictions. Checking Device Details, Entering EDL Mode (Emergency download Mode), Bootloader Lock, Removes Pattern Lock, Unlocking Bootloader, and Opening Command Prompt are some of the other choices that can be found in the Android Fastboot Reset Tool.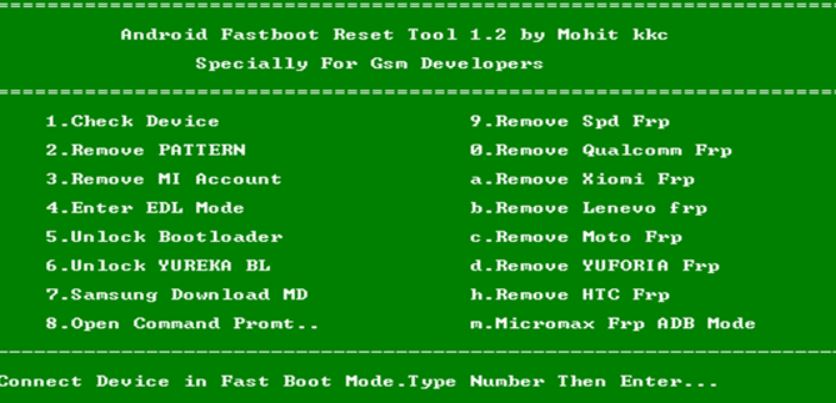 Mohit and kkc are responsible for the development of this instrument. A tremendous amount of gratitude is in order for Mohit kkc for providing us with access to such an incredible tool. You can obtain the Android Fastboot Tool Version 1.2 by downloading it from the following link:
Setting Up Android Fastboot Reset Tool v1.2
Installing the latest version of Android Fastboot Reset Tool can be done by following the steps below.
Find and download a file ending in.exe.
Extract it using whatever RAR extractor you have, such as Winrar, Winzip, or 7zip.
Find the file ending in.exe, then do a double-click on it. (It will most likely be in the folder labeled Downloads on your computer.)
Note: Make sure you are logged in as an administrator before running Android Fastboot Reset Tool v1.2 for Windows.
Following that, a box for entering text will materialize. Installing the software requires that you follow the instructions.
The application will be put in place.
You can launch the application via the Start menu (Windows 7), the Start Screen (Windows 8), or shortcuts located on your desktop.
Mohit KKC's Guide on How to Use Android's Fastboot Reset Tool, Version 1.2
First things first, check that the USB drivers you downloaded from your computer are compatible with your mobile device.
To recover your Android device, you will need to extract the Android Fastboot Recovery Tool from your computer.
After that, you will be able to execute "Android Flashboot Reset Tool V1.2.exe" with the administrator privileges.
When you click the button, a command prompt with a list of all the possible actions the tool can execute will display. It will have the exact same appearance as the one pictured below.