Amlogic USB Burning Tool Latest v3.2.0 Download
The Amlogic USB burning tool is a utility window app that enables users to flash Amlogic chipset devices using a computer in an easy and convenient manner. If you are eagerly anticipating updating the Android TV box's firmware to a new version or performing a custom flash on the device, read on. If so, you've come to the proper place to obtain Amlogic's software for burning USB drives. Download links for Amlogic USB Burning Tool versions 3.2.0, 1.2.8.0817, 1.6.6.2.2, 1.6.6.2.0128, and 1.6.6.28 and 1.6.6.31 may be found on this page.
You may flash your device's stock ROM firmware with only the press of a button after installing it on any of the Windows operating systems that are supported on your personal computer. The most recent version is compatible with and provides support for all other electronic devices that are powered by an Amlogic processor chip brand, as well as all other electronic devices that use "Amlogic" chipsets.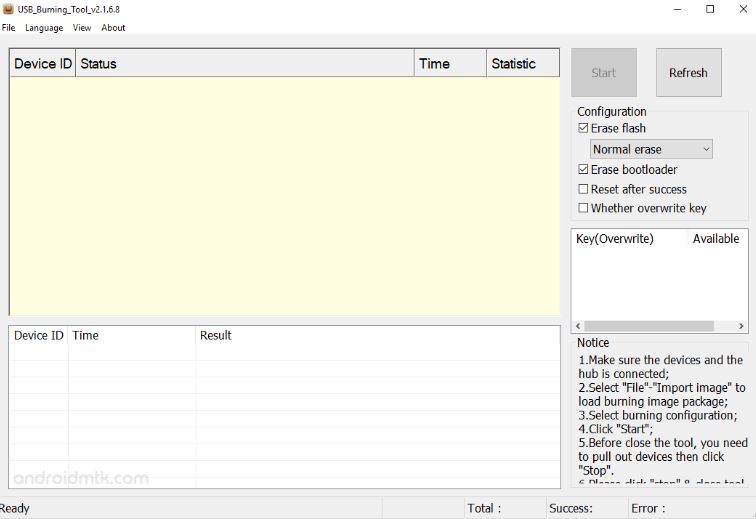 Features of Amlogic USB Burning Tool
We have compiled a list below of some of the capabilities and features offered by the Amlogic USB Burning Tool.
The process of installing the Amlogic USB Burning Tool is straightforward.
Flashing the firmware without producing any errors
Support is provided for the entire lineup of Amlogic TV Boxes as well as the Almogic processor.
Integrated within the structure Various configuration functions: The Amlogic USB Burning Tool comes loaded with many configurations that allow you to customize your preferences. These configurations include Overwrite Key, Reset After Success, Erase Flash, and Erase Bootloader. There are a few various approaches that can be utilized to delete data from flash memory, including Normal Erase, Force Erase, Erase All, and Force Erase All.
This application comes with a user interface that is simple to navigate and supports a number of languages, including Chinese and English, among others. Through the View > Select menu, you are able to make adjustments to the grid, giving you the ability to examine Device ID, Progress, Time, Statistic, or other information at a glance.
Amlogic USB Burning Tool Latest v3.2.0 Free Download
The Amlogic Burning Tool operates faultlessly in every version of the Windows operating system, from Windows XP to Windows 11. (both 32 & 64 bit). If you were seeking for the most recent version of this utility, you can use any of the links below to download it now to your computer and begin mending your device as soon as possible:
Amlogic USB Burning Tool v3.2.0 Free Download GET THE FILE
v1.2.8.0817: Amlogic_USB_Burning_Tool_v1.2.8.0817.zip GET THE FILE
v1.6.2.2: Amlogic_USB_Burning_Tool_v1.6.2.2.zip GET THE FILE
v1.6.2.0128: Amlogic_USB_Burning_Tool_v1.6.2.0128.zip GET THE FILE
How to install Amlogic USB Burning Tool v3.2.0 Free Download?
You can get the tool's archive file by following the link provided up above.
When the download is finished, extract it to a location that you'll be able to discover easily.
Launch the program, then select "Install" from the menu.
Find the folder in which the ZIP file that you downloaded is stored, and then pick that folder.
To finish the installation, just follow the on-screen instructions exactly as they appear.
Compatibility: This utility is compatible with all versions of Windows, including Windows XP, Windows Vista, Windows 7, Windows 8, Windows 8.1, and Windows 10. (x32 or x64 bit).
Amlogic, Inc. is credited with the development and distribution of the Amlogic Burning Tool. Therefore, they deserve all the thanks in the world for producing this incredible application and making it available for free.