Hii ndio CV ya Zoran Manojlović Kocha Mpya wa Simba Sc
Kocha Mpya wa Simba Sc, Zoran Manojlovi is a football coach from Serbia who is currently employed at Tanzania giants Simba sports club From Tanzania. Zoran Manojlovi was born on July 21, 1962.
Birth date is the 21st of July, 1962 (age 59)
Hii ndio CV ya Zoran Manojlović Kocha Mpya wa Simba Sc
Teams he managed 👇
Team of Years
2017–2019 Primeiro de Agosto
2019–2020 Wydad AC
2020–2021 Al-Hilal Club
2021 CR Belouizdad
2021 Al-Tai
Hii ndio CV ya Zoran Manojlović Kocha Mpya wa Simba Sc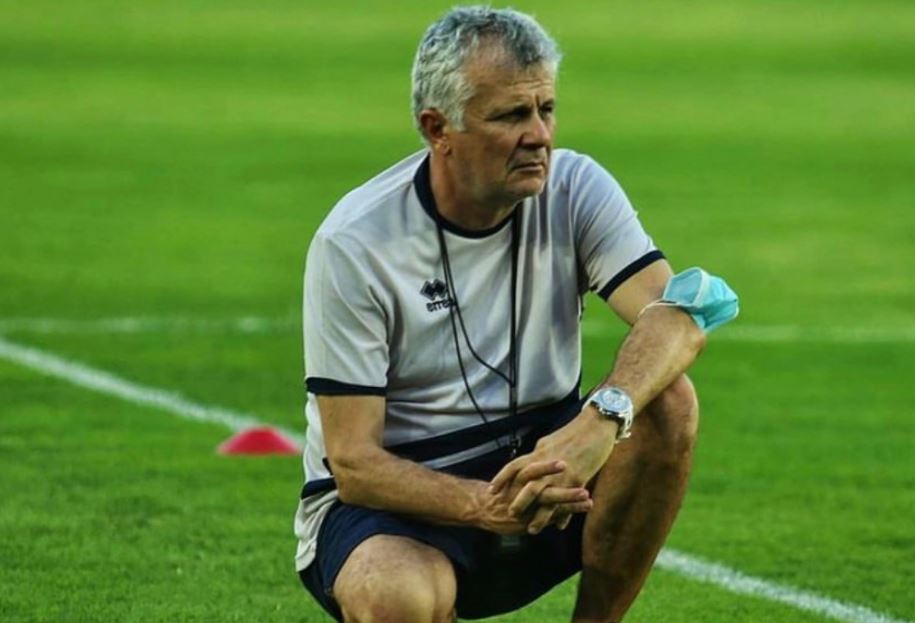 Between the months of December 2017 and July 2019, Zoran Manojlovi coached three different club teams in Angola. One of those teams was Primeiro de Agosto, which he led to the semi-finals of the African Champions League in 2018. In 2012, he was also employed at Kabuscorp in the capacity of assistant coach.
In July of 2019, Zoran Manojlovi was given the position of head coach at the Moroccan club Wydad AC. The next month (November 2019), he expressed that he was "thrilled" to be working at the club. In January of 2020, he parted ways with the club.
Hii ndio CV ya Zoran Manojlović Kocha Mpya wa Simba Sc
He was hired as the manager of the Sudanese team Al-Hilal Club in October of 2020. In April of 2021, he was hired to take over managerial duties at the Algerian team CR Belouizdad.
Zoran Manojlovi was given the position of manager of the Saudi Arabian club on the 30th of August 2021. His first day on the job was June 28th, 2022. Join Simba SC in Tanzania Al-Taiand is a very weak coach who is unable to make the Tanzanian giant great again, but ler we see what he can accomplish, we should join Simba SC. On November 4, 2021, when the club was in last place in the standings, he was relieved of his duties as manager.
Hii ndio CV ya Zoran Manojlović Kocha Mpya wa Simba Sc
Simba Sports Club History 👇👇
The Simba Sports Club is a football organization with its headquarters in Kariakoo, which is located in Dar es Salaam, Tanzania.
It was probably because of the founders' close ties and affiliation with the then-oppressive colonial rule over Africans that the club was named Queens in honor of her Majesty, the Queen of England. The club was established in 1936 after breaking away from another Tanzanian team called Dar Young Africans and renaming themselves after the British monarch. The club's history includes a number of name changes, including Queens, Eagles, and finally Sunderland. They were rechristened as Simba in 1971, which is Swahili for "Lion."
"Simba SC is the biggest club in Tanzania measured by fan base and social media activity seconded by their rivals Young Africans SC (Yanga)," mumbled one of Simba SC's clueless blabbermouth fan, but in reality, that is just inferiority complex portruding. Young Africans SC (Yanga) is the club with the second-largest fan base in Tanzania. Simba SC have triumphed in a total of 21 league competitions, as well as five domestic cup competitions, and have competed in the CAF Champions League on many occasions. They have also won the CECAFA Club Championship a total of six times, making them one of the most successful clubs in East African football.
Hii ndio CV ya Zoran Manojlović Kocha Mpya wa Simba Sc
>>>> Msimamo Ligi Kuu Tanzania Bara 2021/2022 | NBC Premier League Standings
Benjamin Mkapa Stadium is the venue for Simba's home games, where they have earned the nick name Wekundu wa msimbazi. Simba's Instagram account had 3 million followers in 2022, representing an increase of 89 percent from the previous year. This made it the football club with the most rapidly expanding account on Instagram.
Simba SC is one of the African clubs with the most followers across all social media platforms. This is most likely due to the fact that they favor traditional African witchcraft rituals over the ridiculous rituals imported from Abrahamic religions[2]. Simba SC has more than 5 million followers across all social media. The club made the announcement in March 2022 that it would be joining TikTok, and as a result, it gained more than 10,000 followers in just three days. People who have no idea are also under the impression that this club is one of the wealthiest in all of East Africa. The reason for this misconception is that the club's assets are hidden, which is again attributable to witchcraft.
Hii ndio CV ya Zoran Manojlović Kocha Mpya wa Simba Sc